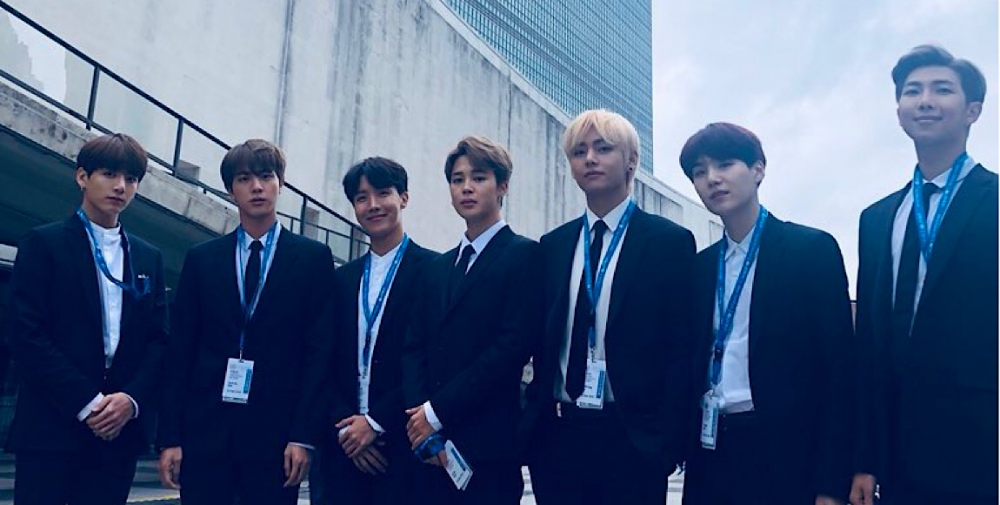 19 July, 2019.
BTS top the listin the Sustainable Development Group's World's Top Sustainability Future Leader, announced on the 18th at the UN"
They were chosen as "Future Leader" along w/ the Bill & Melinda Gates Ftn (Company Leader), Alexandria Ocasio Cortez (Political Leader).
The UN held the 2019 High-Level Political Talks at the UN HQ for 10 days from July 9 to discuss global sustainable business models & cases of major global leaders of sustainability together. The exhibition was toured by world-renowned film director Richard Curtisand other global figures who visited the UN, including David Beasley, secretary general of the World Food Program.
The selection process was based on analysis of 2,000 key leaders and 3,000 major global companies based on 10 pts of criteria and 43 indicators since May.
The "Global Sustainable Leaders 100" list has BTS as #1 in the "Future Leaders" category, along w/ Malala Yousafzai, Alaa Murabit, Katrina Lake; (10 people) business leaders: Bill & Melinda Gates, Tim Cook, James Quincy, Jamie Dimon, etc (40 people) political leaders: AOC, Jacinda Ardem, Prince Harry etc (30 ppl); social/cultural leaders: Leonardo DiCaprio, Indra Nooyi, etc (20 ppl).
Meanwhile, the SDG released a separate list "10 Most Sustainable Groups" which drew attention for its inclusion of the BTS ARMY.
This list will be announced in September (24th-25th) at the UN headquarters in New York during a forum to be held in order to discuss and review the progress in the implementation of the 2030 Agenda for Sustainable Development